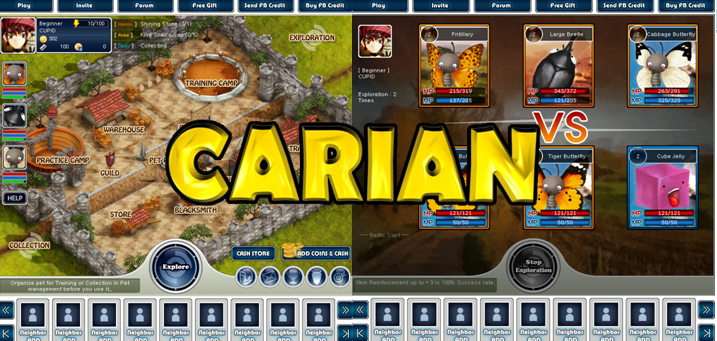 The number 1 browser game in Korea has been given a Facebook counterpart! CARIAN, developed by Jaysoft and published by BAG Entertainment, the browser based MMO that took Korea by storm now set its sights on the Social Networking market.
CARIAN is a uniquely styled RPG which differs from other SNGs being serviced in FACEBOOK.  It has essential features of an MMORPG with its Avatar& Pet Growing system, different adventures using tamed Monster Pet, and item and avatar upgrade using various facilities in the game like Blacksmith and Pet Management.  It also has adopted various web browser game features such as Auto-Hunting, Auto-train, and Auto-Duels just to name a few.  The best part of this game is that it caters of all players, whether they are hardcore, or casual, male or female, young or old.
Now, CARIAN can be experience through FACEBOOK.  BAG Entertainment had made added SNG functions to the game like add friends, wall posting and friend gifting to add to the FACEBOOK feel to the game.  CARIAN will be the first of many games that BAG Entertainment will be introducing on Facebook.
CARIAN will begin its Closed Beta Testing on October 7 and will continue on until October 18.  To join, simply search 'CARIAN" in the Facebook search bar.  Since this is CBT players will be expected to give their comments and feedbacks in the game to make sure there's continuous improvement.
To quote James Ryu, CEO of BAG Entertainment: "CARIAN will bring a new era to SNG styles, with its unique Gaming Genre and features to provide more enjoyable gaming environment for SNG Gamers."
His vision is to lead BAG Entertainment to become the leading Game provider in the SNG Market.
To play CARIAN on Facebook, simply go to: http://apps.facebook.com/jca_ver/
Official Global Gaming Portal of BAG Entertainment: http://www.gameyez.com